CONTENTS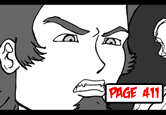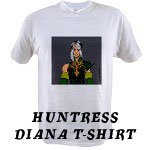 Friends of KnightQuest Online

Polymer City Chronicles
Matt Haley
Robert DeJesus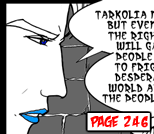 Other Comics by Oran Rocha/KnightQuest Online


Welcome!
Updates: Fridays
Check the main page, livejournal or twitter for updates


Older Dark Bane comic related posts
22-Aug-10

Sorry for the lack of updates but I've been taking it easy. Work was getting to me and I needed a break. Didn't plan on it being nearly three weeks long but I'm back.
02-Aug-10


Okay, if you didn't check out the livejournal, I've move my webcomic updates to monday from now on. This affects the Dark Bane and Last Chance. I done this as I now have the whole weekend to work on the comic pages and real life crap and then update the comic monday afternoons after I get off work. This is the way things have worked out the past couple of weeks so I finally decided to make the change permanent.
25-July-10


I've added some banners at the bottom of the page.
19-July-10


And we've hit the big numbers! With this update, Last Chance has reached over 300 pages of the current series. And the Dark Bane finally reaches 100 pages.
26-June-10


The third chronicle begins. Queens and Hunters begins with a little history lesson on the queendom of Silverdrake. I've also added a story so far page.
14-May-10


Story problems with the comics held up the update last week. But I'm back with a new page as we near the end of this chapter with only a couple more pages left.
24-Apr-10


We have a special two page update for the Dark Bane this week. I also have a quick sketch I did a while back of diana in a bath. Like most of my quick sketches I did it without any planning and her head looked smaller than the rest of her body. I went back and fixed the sketch as best I could.


04-Apr-10

And we are back after a good deal of time. I needed some time away from the comic in order to work on my taxes and to actually live on my days off work. Now all I have to do is go over them again and they're done. As for the updates from now on they'll be limited to one page updates for each comic. I really don't like to do this as it does slow down the story but the time it takes to pencil, ink, scan, letter, resize, and what I'll call a lame attempt at "color" is taking too damn long. There might be more pages for this domain's anniversary, but it isn't set in stone.
19-Mar-10


No comics this week as I'm devoting this weekend to doing my taxes. I'll be back next week with new pages of the Dark Bane as Dame Storm finishes her task. To hold you over here's a sketch of yeoman uniforms in the tarkolian imperial military.
11-Mar-10


Sketch of a tarkolian gladiator is up until the comic gets updated over the weekend.
07-Mar-10


Two new pages of the Lady Nemesis. The sketch of Mithras I had up has been move to its on page and there will be another one up around next thursday. Check back here or the main page for any new updates or news.
04-Mar-10


Just updating the comic with a sketch of Quirinus Mithras, the centurion commander who will show up more in the next chapter. New pages should be up by the weekend.
23-Jan-10


A lot of things happen last week. Lack of sleep, hurting my arm shoveling snow, my job being crappy, and other stuff keep my occupied. But, I back now and here the start of Dame Storm's annihilation of everything in her path.


I'm tweaking things here. After 3+ years I've finally adopted the look of the main page for this page. The old design was suppose to be a temp placeholder until I could change the format to something like this. Obviously, I fell behind on that. Check back here in the coming weeks, I should have new pages up with info about the many races of KnightQuest, the worlds of Kimua,and whatever else I deem neccesary.
15-Jan-10


Okay, I've been away for awhile, working on various things. We're now back with two new pages and we will be back next week with two more next week. I went through the archive and discovered that the first couple of pages were done in 2006. So it actually took me 3 years to finish the first chapter of 45 pages. I did focus more of Last Chance than on the Dark Bane, and I would skip weeks without an update and the story had no ending, but I really want to improve on this. And if I haven't stated it before, the comic update once a week, right now on or by saturday.
21-Dec-09


Updated the comic and added a vote incentive.


04-Dec-09

I've just scanned in the next two pages that I started drawing last night and finish this morning. I had planned to put off the next update until week since I did update early this week. But, I spent money to advertise on Errant Story, I should show some regularity with updates and not scare people off with the lack of them like I usually do. The next two pages should be up by tomorrow.
10-Oct-09


And we start yet again. Last week, KnightQuest-Online turned....seven..I think and I finished the rough script for this next chapter. This is a first for me, having a story more or less done at the start. And I hope it means that there won't be any delays like I had on the last chapter. Aside from the "knight save princess/queen" plot, I HAD NOTHING ELSE to work with. I was making it up as I went along and it took nearly two years. This finished script should cut down on the production time and I'm really excited about it. More next week.
19-Sept-09


Well, from the date down below, its been nearly five months since I've touched this page or updated anything Dark Bane related. If you've read the main page, then you know that I've been on work on the next chapter. To hold you until it starts, I've posted new sketches in the prelims page like the one up top. This is a quick sketch with rough colors of Dame Storm in a gypsy disguise. Its was done to see how she would look. I've got over 20 pages of story sketched out now and soon I'll either be finish or have enough pages done that I can start drawing the pages. It will definately start by october and it will take top priority this time, not Last Chance.
03-Apr-09


Okay, it's finally done. The first chapter, or chronicle, of the Dark Bane is now complete. It's over 45 pages long and it looks like I started this thing sometime in april 2007. 45 pages in two years. I don't know if that's good or not, I was doing Last Chance as well as this and it took priority. I'm going to go start working on some comics that I want to see in actually print form in one way or the other while still working on Last Chance. And I also want to have the entire next chapter to be completely written out before I start drawing, so the next chapter of the Dark Bane won't be up for some time.


I originally wanted to post the last four pages together but computer trouble wouldn't let me. So I'm posting the two that I managed to finish before.
17-JAN-09


Okay, the last time I updated The Dark Bane was about two months ago in November. Work and lack of sleep hampered my progress and I barely got any Last Chance comics done. I really wanted to get the last pages of this chapter done before the new year, but things happen. Chapter 1 should finish up in the next update.
24-Oct-08


The story continues after a two month break.
31-May-08


Here's a comic I penciled and inked about two or three weeks ago and just today finished the lettering for.
29-Apr-08


To celebrate KnightQuest-Online.com's two year anniversary I've posted FOUR new page!
11-Apr-08


Busy working on future story lines and had no time to do the next pages. Should be back with new comics next week.
28-Mar-08


The comics are back as well as a cast page and a few updates to the prelim page.
20-Mar-08


No new comics this week but here's a sketch I did for a background to the Dark Bane pages. I like so much I might use it as a comic page.
12-Jan-08


Two new pages DB019 and Db007. I've also fixed the numbering on several pages.
20-Dec-07


Two new pages are up and some new sketches were added to the prelims page.
19-Nov-07


KnightQuest: The Dark Bane continues after a long wait.
17-Aug-07


New page after a long wait. I'm planning on finishing this story up soon and that means adding the missing page. With me doing Last Chance The Beast Hunter, the next update is still uncertain.
28-Apr-07


To celebrate KnightQuest Online's one year anniversary at this address I've added two new pages of the Dark Bane and Last Chance The Beast Hunter. Look for this first story to be finished in the coming weeks.

It's been a while. Next update is uncertain for now.


Links